Saturday i was on my way to shoot balloons at The Rock Ranch, and en route, saw a magnificent vista to the right. The dawn's early light was greeting a low, but dense layer of fog over a clearing. As my custom, i was running late, so alas...had no time to stop and snap.
I made it to my beloved place of business in time to savor a sunrise, but by then, the mist was mostly a mere memory. Alas (again).
And then…the big, beautiful balloons began! (Please pardon if this is politically incorrect, but they were full of hot air : )
As fun as a mass of hot gas can be, i also pondered the fine fog from the first of the day, and thought to my self, "Self, you ought to go back tomorrow morning and see what you can see."
Tomorrow arrived the very next day (predictably enough), and unpredictably, no morning mist as had so enamored me the previous dawn. Alas (yet again).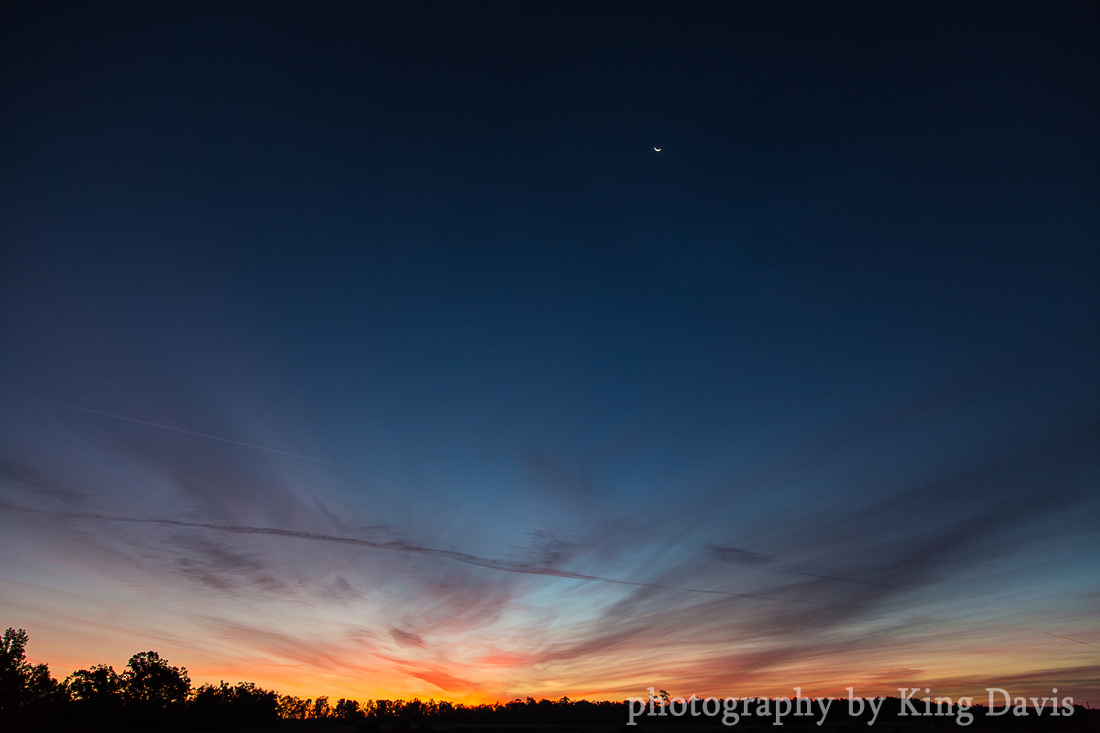 Instead, there was a monumental sky with a crescent moon, and clouds extending forever. The 24-105mm was on the camera, and so i cranked it as wide as it would go, and that was of course not wide enough to take in the view. [see image above] Knowing i didn't have time to fool with changing lenses, i changed to the 16-35mm in hopes i was wrong (which is usually a safe bet : ) [see image below]
Naturally, the 16mm was not wide enough to take in all the fun, so i took time to change to the 14mm in hopes the sky would continue to behave politely in providing pretty, pleasing pictures. [see below]
Not even the 14mm could grasp the entire scene. So the only reasonable conclusion is this is a clear indication i need to find $3,000 to get my name in the pot for the 11-24mm lens Canon is rumored to be bringing out soon : )
While congratulating myself on having such impressive skill with reason and logic, i glanced in the opposite direction and sensed the direction to snap a few fotos in that direction. (On rare occasion, i've been known to take direction : )
Those thing-a-ma-hickies along the glide path seem to make pretty good models: they work cheap, stay where they're told and don't complain when it's cold.
And so now for the epilogue…
(You think i'd leave this episode hanging along a glide path with no mist? : )
The following morning, (monday staff meeting not-withstanding : ) i returned to the scene to find my Weatherman playing 'misty' for me as He had two days prior. My head was in the clouds! (Or more truthfully, was maybe a foot or two above ; )
in joy,
king